Catering Sales Manager
Postcard Inn St. Pete Beach
St. Pete Beach, FL
Posted October 16, 2020
If your smile has the ability to brighten someone's day, we're looking for you!
Catering Sales Manager
Job overview
The Catering Sales Manager is responsible for representing the company to customers, the public, government, and other external sources. Responsible for the development and performance of all sales activities in assigned market. Listen to customer needs, analyze this information and create tailored proposals. Negotiate and close sales while meeting/exceeding sales targets. Impress customers with tailored proposals, quality and timely service in a pleasant and friendly manner.
What you will be doing
Representative of the Company – As the representative of the Company and hotel, professionally approach and communicate with current and prospective customers. Knowledgeable on market, positioning of hotel, amenities and brand. Understand booking patterns, trends, high demand times, and events in the market. Convey a strong belief in the hotel and confidently discuss hotel features, services and advantages.
Research, Identification & Sales Development – Research and understand demand generators, new business sources, the internet as a prospecting tool, community involvement and networking. Research competing hotels and identify sales strategies. Understand and use industry reports like Star Reports, etc. Develop effective sales strategies to counter the competition. Develop valuable business relationships that result in additional sales and new customers. Research each customer's business, hospitality needs, identify who to talk to and how to get sales closed. Monitor customer preferences to determine focus of sales efforts. Research and identify new business opportunities for the hotel including reaching out to event planners and staying abreast of local events. Represent the Company at trade association meetings to promote hotel.
Proactive and Creative Sales - Exercise creativity, discretion and independent judgment in determining how to assemble an event to suit each customer's taste. Give full attention to what customers are saying, taking time to understand the points being made and asking questions as appropriate. Conduct site visits and prepare original, creative proposals tailored to address the needs of and to impress the customer. Develop solutions to any cost concerns and resolve any challenges or problems. Aggressively pursue all appropriate opportunities for customer solicitation and relationship building. Aggressively engage in creative networking, uncovering and cold calling prospective clients to generate activity for future business.
Negotiate and Close Sales – Influence and convince customers to select the hotel for their hospitality needs. Negotiate terms and reconcile differences. Develop contingency plans and act promptly and effectively when closing problems arise. Recognize customers for loyalty and/or accept feedback. Identify and secure business to fit the yield strategy. Sell to fill need dates. Sell and upsell hotel services to meet/exceed sales and financial objectives. Capture all profitable business. Attain/exceed sales goals and profitability. Communicate sales activities with peers and superiors.
Account Management - Develop and maintain constructive and cooperative working relationships with customers and others in the course of their event planning. After securing business, deliver a high level of customer service with key decision makers, solve customer problems, meet commitments, seek customer input and anticipate customer needs. As appropriate, meet the customer at the event, ensure proper event set-up and customer satisfaction. Take initiative to solve any problems by liaison with other hotel managers.
Administration – Responsible for compilation of required sales reports and reporting process. Maintain accurate and up-to-date records of all sales and transactions. Complete all required and requested reporting in a timely and accurate manner. Provide management with accurate information and comply with corporate policies and procedures as well as government laws and regulations. Perform special projects and other responsibilities as assigned. Participate in task forces and committees as requested.


Requirements
Education and Experience:
A four-year college degree in hospitality management, marketing, business or related degree or equivalent experience. Two or more years of sales related experience. Familiarity with hospitality industry practices preferred. Ability to travel locally and overnight.
Benefits
Paid vacation
Personal/Sick Days
Medical Insurance
Dental Insurance
Disability Insurance
Life Insurance
Vision Insurance
Free Parking
Matching 401-K
Company Hotel Travel Discounts
This is a great opportunity to work for a growing hotel company. We provide an excellent benefits package.
The Postcard Inn on the Beach is a Drug Free Workplace and an Equal Opportunity Employer/M/F/Vet/Disabled.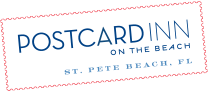 6300 Gulf Boulevard
St. Pete Beach, FL 33706
Current Job Openings
Postcard Inn St. Pete Beach
196 Room Hotel
Apply to be a member of our TPG Hotels & Resorts family,
a Top 10 Hotel Management Team and "hospitality employer of choice!"


Our Hotel
Catering to guests who are happiest in bathing suits and bare feet, Postcard Inn On The Beach recalls the bygone days when road trips ruled and surfers were the undisputed stars. "Hip, affordable and resolutely casual" says Travel + Leisure of our sun-kissed St. Pete Beach Gulf Front resort, where guests kick back in surfer chic guest rooms, savor fresh Floribbean cuisine and sip cool tropical cocktails and local brews at the oldest bar on the beach.
Whoever said all hotel rooms should be the same had no idea what they were missing! We invite our guests to feast their eyes on our 196 uniquely designed rooms created to make every beach getaway even more epic by adding the perfect backdrop to any vacation.