Public Attendant / Lobby Attendant
Mill Falls at the Lake
Meredith, NH
Posted June 17, 2019
Success awaits...in beautiful New Hampshire!
Public Attendant / Lobby Attendant
At TPG Hotels & Resorts we are driven to deliver superior brand quality, value and service to our guests and owners.
You'll want to work here
People are our greatest assets. TPG Hotels & Resorts is proud of its ability to recruit, train and retain the best hospitality personnel in the business. Nationwide, TPG-managed properties are recognized as great places to work and build a career.
Why you will enjoy this job
This job is great for someone who likes to work independently. You are part of a great team but during your shift you are your own team. We are looking for a self-starter who can happily work alone and help make our hotel beautiful.
Mill Falls at the Lake is looking for a Full-time year-round Publics Attendant to join our team.  Mill Falls at the Lake is located in Meredith, NH and is a resort comprised of four premier Inns, Marketplace and Spa right on Lake Winnipesaukee. 
 Responsibilities included but not limited to:
*Prioritize daily projects and routine cleaning.
*Maintain all hotel lobbies, bathrooms, hallways, common areas, Mill Falls Marketplace, and Cascade spa to exceptional brand standard of cleanliness.
*Clean and organize linen storage room and supply closets as needed.
*Process and assist in laundry operations and in Housekeeping when needed.
*Provide an exceptional guest experience while performing duties.
Mill Falls at the Lake
171 Room Inn
About Us
In the early 1980's, Meredith was at a crucial point in its history, struggling with how to responsibly develop and revitalize its downtown area without jeopardizing its small town character and charm, historic resources, and environmental assets. 
In 1983, three investors bought the mill property that dated back to the beginning of our country's Industrial Revolution, which had deteriorated into an unsightly sprawl. Many of the non-historic structures in the complex were razed, but the historic old linen Mill was preserved and reconstructed into a four-floor marketplace. A half-ton copper cupola from atop the tower of a North Woodstock Church was acquired and hoisted to a new perch on the mill roof. The Marketplace, along with three new retail buildings, was created and opened its doors for business in 1984. 
The following year, the magnificent 54-room Inn at Mill Falls was added to the complex. 
The area was beautifully landscaped, and the waterfall that powered the old mill was exposed. Instead of walking around the mill property to get to the waterfront, people could now stroll along red brick paths and enjoy the shops and scenery. 
From a dilapidated mill town to a world-class village resort, Meredith has undergone a remarkable transformation over the last 25 years, and Mill Falls at the Lake has played a major role in that transformation.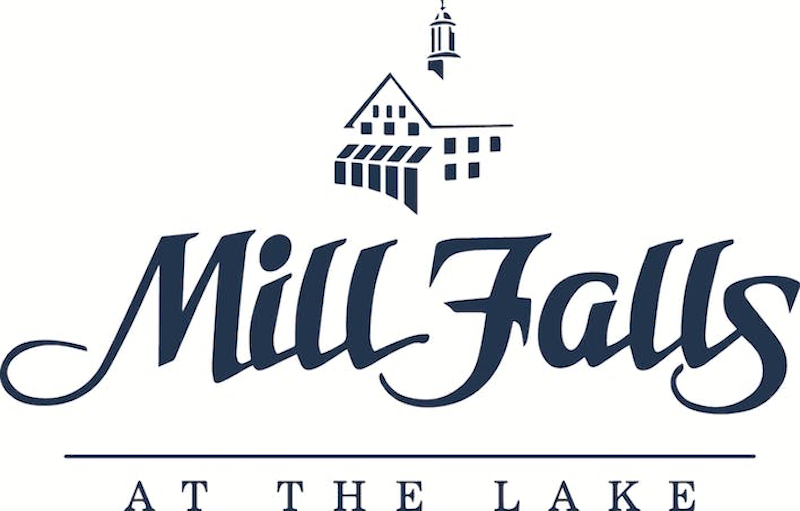 312 Daniel Webster Highway
Meredith, NH 03253